Quick Turn PCB Prototype Assembly
Printed Circuit Board Prototyping:
For more than 10 years…Tru-Tronics Intl. has provided a full range of PCB prototype assembly services. Quality PCB prototyping is an important step in testing the function and manufacturability of a design.
Prototyping Ensures A Superior Final Build:
Tru-Tronics Intl team members…work with customer designers and engineers to develop a PCB prototype that exceeds client requirements. Your expertly built, tested and functional prototype is then used as a benchmark for final production. This process ensures that your final assembly run will exceed your manufacturing requirements.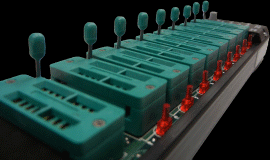 A Wide Range of PCB Prototyping Experience:
Tru-Tronics Intl. has the skilled professionals and experience…to assist with your printed circuit board design and layout. Over the years Tru-Tronics Intl. has had the opportunity to work with small as well as large OEMs and our services have continuously proven themselves. Our customer satisfaction goal is to help you get your product to market on-time and with a successful result.