Final Product Assembly
For customers requiring a complete outsource Tru-Tronics Intl. can provide a full turnkey solution.
Box Build
With 10 years experience in the box build of finished goods we are able to provide competitive and on-time electro-mechanical assembly services based upon the specific requirements of each individual product. Whether you require board level assembly only, sub-module or final product assembly – you can rely on Tru-Tronics Intl. to provide a complete custom service. Our assembly team operates as dedicated manufacturing cells, team members are multi-skilled and trained in the latest lean manufacturing principles.
Box Build services include:
Assemble your printed circuit boards into finished product assemblies
Cabinet, rack and backplane wired assemblies
Press-fit connectors into high density PCBs & Backplanes
In-house FPGA and EPROM programming facilities
Assemble complex cable forms & harnesses
Potting, encapsulation & heat shrinking

Cable Assembly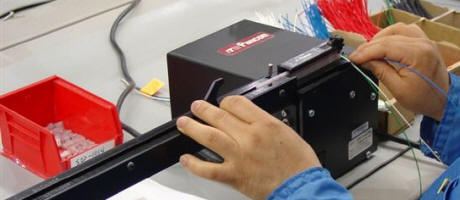 We strive for continuous process improvement and problem prevention, based on ISO 9000 standards.
We ensure that all products meet TIA/EIA Standards.
We develop relationships with our suppliers that emphasize continuous improvement in product quality, service and support.
We deliver products that are 100% tested, with guaranteed zero defects.
We incorporate multi-step inspection processes throughout manufacturing.
We obtain first piece approval and prototype approvals.
We are so confident of the quality of all our cable assemblies that we guarantee them for life against manufacturing defects.
Cable Type
Fiber Patch Cords
Unshielded Twisted Pair (UTP) Assemblies (Category, 3, 5, 5e, 6)
Shielded Twisted Pair (STP) Assemblies (Screened/T1)
Coaxial (DS3, 734, 735, Thinnet)
Video (SVGA, SVHS, RG6, RG59)
RS232 (Parallel, Serial)
V.35 Interface Assemblies
Switch Boxes
DSub Adapters
Twinaxial
Token Ring