Wiring Harness
Our company is the leading cable assembly and wire harness manufacturer. We offer multi-connector electrical cable assemblies and wire harnesses built to your specifications, for a variety of applications. We can fulfill your order quickly and accurately. Every cable assembly and wire harness that leaves our building is tested to meet or exceed your specifications.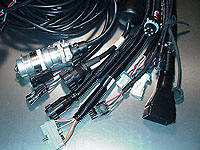 Alarm Cables
Flat Ribbon Cables
Custom Video Cables
Industrial Wire Harness
Power Supply Harness
Custom Cables & Wire Harnesses
Speaker Wiring Harnesses
In today's tough economy, are you looking for a supplier who can respond faster, reduce your Lead-Times, reduce your inventory and produce in smaller quantities at a reasonable cost…well you've found Tru-tronics. Click on "Free Quote Form" above or call us today to get started!