Cable Harness
In spite of increasing automation, in general, cable harnesses continue to be manufactured by hand, and this will likely remain the case for the foreseeable future. In part, this is due to many different processes involved, such as: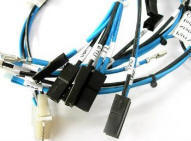 Routing wires through sleeves
Taping with fabric tape, in particular on branch outs from wire strands
Crimping terminals onto wires, particularly for so-called multiple crimps (more than one wire into one terminal
Inserting one sleeve into another
Fastening strands with tape, clamps or cable ties

It is clearly difficult to automate these processes. Our qualified staff tests the electrical functionality of each cable harness with the aid of a test board. The circuit diagram data are pre-programmed into the test board, where harnesses can be tested.